We're sharing our top picks of where to shop at the seaside. Part four introduces you to our favourite beachside deli….
best beachside deli:
Cornish Fresh, Mawgan Porth
Cornish Fresh has been described as the funkiest beach shop on the planet and we can find no reason to disagree! It's a beach supermarket/grocery/deli/pizza shop, with a focus on fresh local produce and unusual items, as well as all your essentials. The home-made takeaway pizza is wonderful and makes for a really easy lunch on the beach, while the deli items are ideal for putting together a simple but delicious meal back in your kitchen. Or you can really relax by "cheating" and picking up some ready-made hot meals cooked daily by the Cornish Fresh in-house chef! There's also great quality fresh, local meat, cheese and of course Cornish pasties, and you can choose from a great selection of wines and beers too - you're on your hols after all! Cornish Fresh has some essential beach accessories too so you pretty much won't need to go anywhere else to be all set for your day at the beach.
best beachside unusual food and gifts:
Seaweed n Stuff, Pittenweem, Fife
This shop's strapline is "We don't make seaweed. We make seaweed better". We absolutely love that they're making the most of such a sustainable food-source which is stuffed full of anti-oxidants and, it turns out, really delicious once these guys have finished with it! They turn seaweed into chutney, they add it to shortbread, they pickle it, they use it to make relish. (The smoked seaweed and onion relish is just incredible with goat's cheese. Or try pan-frying some king prawns in Weed and Wonderful Smoked Seaweed Oil.)
The shop's name is Seaweed n Stuff and they're as good at the "stuff" as they are at the seaweed! Just reading the list of all their homemade ice-creams will get your mouth-watering - pomegranate and blueberry sorbet, elderflower and rhubarb ice-cream, for example. We also tried the homemade mackerel and seaweed paté topped with locally-foraged pickled samphire. Really fantastic! The seaweed products make excellent gifts to take home with you and the shop has other gorgeous and unusual items to tempt as well, like seaside-themed homeware and gorgeous products to make your day at the beach easier.
best beachside coffee shop:
The Shed, Laxey, Isle of Man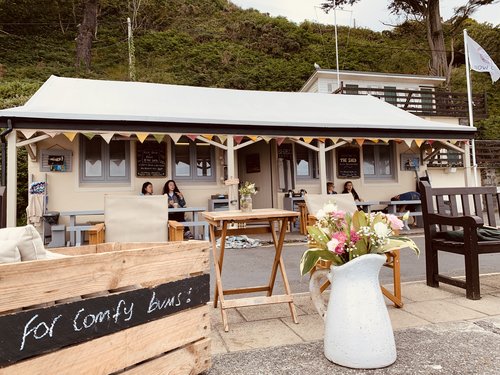 When a coffee house is so cool and vibey you want to sit outside it even when it's blowing a hoolie, you know it must be good. The Shed is a teeny-tiny coffee shop that oozes huge personality, based in a cute little converted shed, at the far end of Laxey promenade on the Isle of Man. All the seating is outside, overlooking the gorgeous beach, but they'll provide blankets and hot water bottles in the winter and deck chairs, cushions and beanbags in the summer. Homemade cakes, pies, soup and juice are on the menu, as well as some seriously good coffee, and there's a dinky range of cool, locally-sourced gifts and unusual beach-related swag available, too. Your dog's going to love The Shed as well - you can borrow dog-toys and there are complementary dog snacks so that no pooch needs to feel left out when you tuck into that huge slice of cake.
best beachside clothes shop:
Roo's Beach, Porth, Cornwall
Roo's Beach has a gorgeous atmosphere, as well as having really gorgeous clothes. The staff are super-friendly and there's a really laid-back, beachy feel. You maybe wouldn't expect to find such an incredible fashion and lifestyle shop nestled so close to the beach and that just makes shopping there feel like even more of a treat.  There's floaty kimonos, slouchy sweat-shirts, lots of denim, eye-catching jewellery, cute make-up brands and beauty accessories:  it's fun, it's colourful, it's relaxed, it's creative, it's cool!  Of course, as it's just metres from the stunning sandy beach, there are also some very lovely beach essentials like sunglasses, hats and other beach must-haves. They sell a bright and eclectic range of gifts and homeware too and recently they've started a laid-back menswear collection, so it really is just beachy-peachy shopping for everyone!